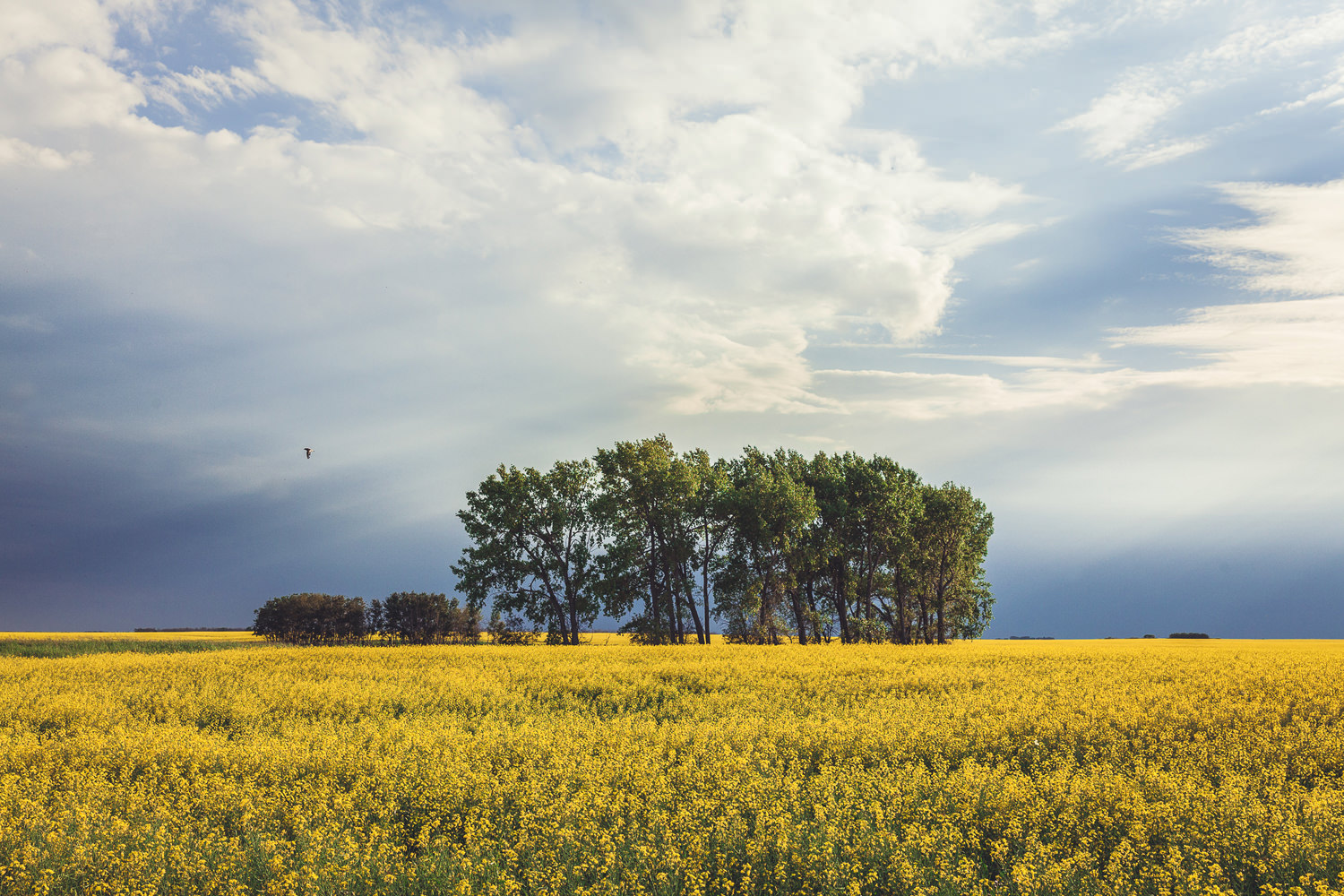 Southeast Saskachewan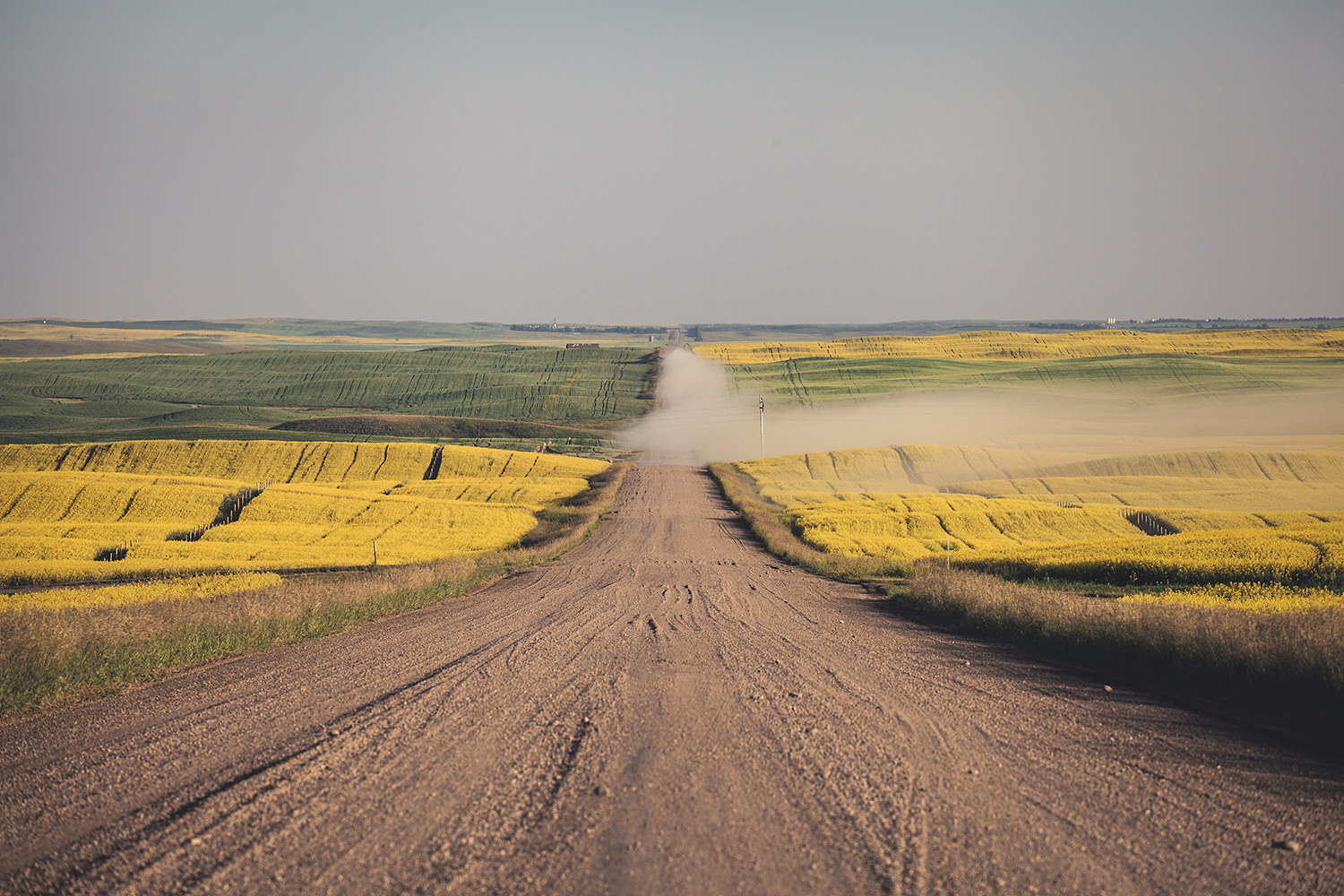 Roadrunner
A truck hauling livestock kicks up a cloud of dust as it travels along the grid road. This is just west of the badlands of Alberta, near Dorothy.
Three Sisters - Banff National Park, Alberta
Taken in the summer of 2013, roughly one month following the flood that ravaged much of southern Alberta. Still plenty of debris scattered around, along with loads of new sediment having been deposited throughout the region. This will serve a constant reminder to the immense power of water. Though much was ruined, the beauty of the Canadian Rockies was still present.
Glow - Southern Saskatchewan
A glimpse of the Northern Lights can easily stop you in your tracks. This incredible phenomenon was caused by a coronal mass ejection two to three days prior.
Asperatus - Regina, Saskatchewan
Driving towards Regina one winter night - looking to the sky for a glimpse of the Northern Lights - instead I saw these seemingly artificial Undulatus asperatus clouds draped over the city. The surreality of these clouds is hard to describe.
First Snow - Moraine Lake, Alberta
Moraine Lake is one of many mesmerizing glacial lakes in Banff National Park. Situated in the Valley of the Ten Peaks, to say this location has been photographed often would be an understatement. A late summer snowfall dusted the mountains early in the morning, alluding to a new season.
Context - Coast Mountains, British Columbia
Whenever I am standing over a cliff, an overwhelming sense of insignificance passes through me. Nothing gives me a better scale of the world than looking back down and seeing where you came from.
Placify - Southern Saskatchewan
Driving through the prairies you often enter a feeling of monotony. Repeating scenes stretching for miles create an impression of being stuck in the background of an old cartoon. Looking around for something to break the visual boredom, I found a lone tree, coated with a layer of hoar frost.
Johnston Canyon - Banff National Park, Alberta
A popular attraction within Banff National Park. This stunning blue-green creek has cut a scenic gorge into the surrounding limestone.
Valentine Lake - Coast Mountains, British Columbia
After spending a day hiking in the Coast Mountains of British Columbia, this lake provided a great backdrop for a campsite. Treated with a perfect sunset after taking a quick dip in the icy water, my eyes turned quickly to the fire and whiskey to keep warm.
Machu Picchu - Cusco Region, Peru
Machu Picchu hardly needs an introduction. This stunning window into the past is located in an astounding environment. Surrounded by towering mountains and an extensive jungle, the excavation of this archaeological site is almost as impressive as its initial construction.
Last Starlight - Fernie Alpine Resort, British Columbia
Following a fireworks display to celebrate 2013, a perfectly clear sky made way for the stars to shine down one last time for the year.
Abandonment - Southern Saskatchewan
An abandoned farmstead located in a coulee north-east of Regina, Saskatchewan. Isolated from light pollution, a long-exposure on a windy night shows motion in the overhanging clouds.
Mammatus - Regina, Saskatchewan
Photographed in the summer of 2012, these unbelievable Mammatus clouds formed over the city of Regina, Saskatchewan after a vicious thunderstorm. Seeing clouds such as these is rare even in a place known for being the "Land of the Living Skies".
Supply - West-Central Saskatchewan
The openness of the prairies allows the sun to cast its light unobstructed over acres of land.